Adding Value Through Connections and Partnerships
In addition to providing the essential public service of wastewater management, LOTT has a broader role in our communities. These connections include valued educational and recreational amenities, school district partnerships, an active role in regional planning initiatives, and peer-to-peer sharing within the clean water industry.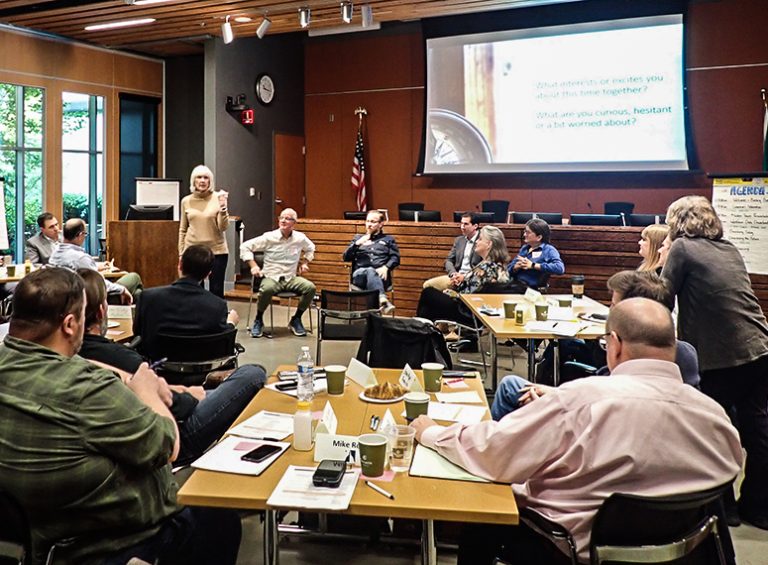 School District Partnerships
Science, Technology, Engineering, and Math (Stem) Education in Action
LOTT is uniquely positioned to advance STEM education and has formal partnerships with the three school districts in its service area – North Thurston, Olympia, and Tumwater – to include field trips to the WET Science Center in their science curriculums. One grade level from each district visits the WET Science Center each year. In this way, students enjoy field trips that support the Next Generation Science Standards and district-specific learning goals, while also learning about their local wastewater utility. This partnership helps LOTT to educate future ratepayers, school districts to meet their learning requirements, and students to have a memorable, interactive learning experience.
Strong Connections to the Clean Water Professional Community
Treatment performance at the Budd Inlet Treatment Plant is among the best in the country, making staff experience and knowledge highly sought after, especially with regard to nutrient removal processes. LOTT provides tours to visitors from throughout the state, region, country, and even outside the U.S. to share this rare and valuable knowledge. LOTT is involved in many professional organizations, with staff serving in positions of leadership on committees focused on wastewater treatment, biosolids, pretreatment, and more. Staff routinely share their technical expertise through professional conference presentations, panels, and written papers in industry publications, and serve in an advisory capacity for state-level planning initiatives, such as development of the Washington State Reclaimed Water Rule and the Puget Sound Nutrient General Permit.